We moved into our house Easter Weekend and I've been slowly working on making it feel like home! I had little to no budget for a room makeover. So the only things I purchased for this room was the wall paint, the two lamps and the two plants. Everything else came from me shopping our house and boxes of things we had. I'm so happy with how fresh and bright it is and I actually enjoy sitting and folding laundry in this room now. ;) It's a work in progress…
but I thought I would share how it's coming together so far!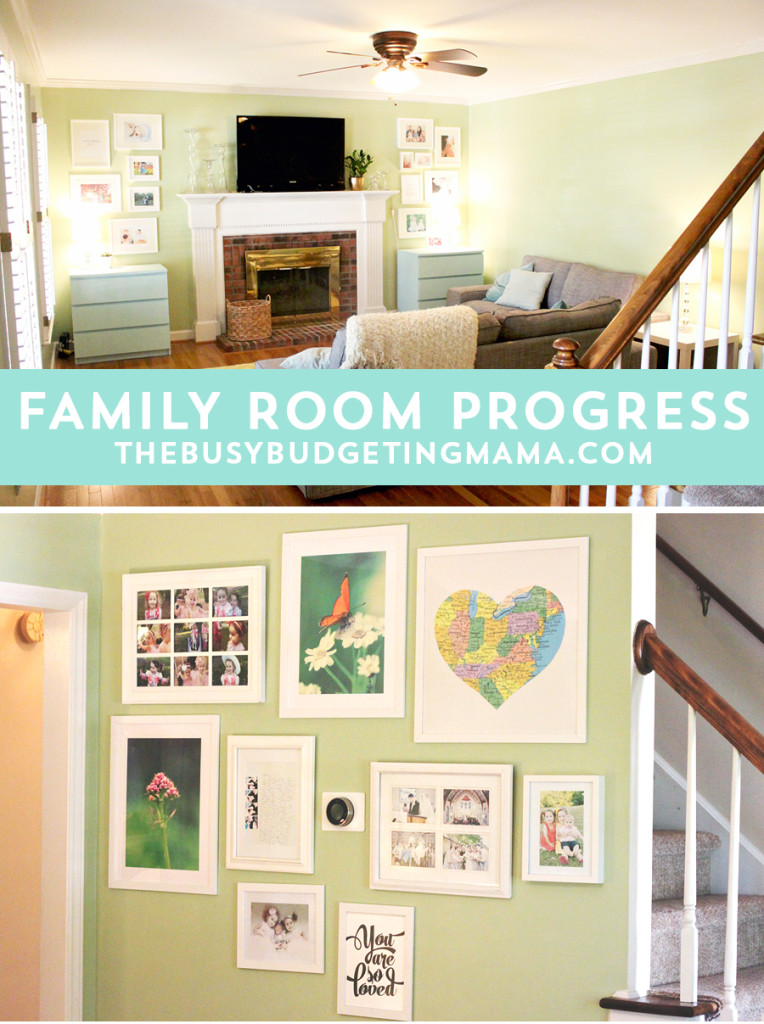 In a perfect world, I could have built ins made for either side of the fireplace, but…that's not gonna happen right now. So I'm working with what I have! I had ben carry down these two hand me down IKEA dressers we were given by ben's sister…and had been using in micah's room. The right dresser still has his clothes in them..but it's actually SO CONVENIENT having his wardrobe right there. He's the messy one. haha. I found some leftover blue paint in our closet that I had just unpacked and gave them a fresh coat. (I used 6484 Meander Blue, Sherwin Williams) They are originally a dark brown black color. I originally had planned on putting legs on them..and handles.. but that all costs money and for now.. they are functional and pretty enough! I really needed them because the room needed more light…so I wanted a flat surface for the lamps. I looked at every store for budget friendly lamps. they were all SO expensive..I feel like lamps jumped in price! But I found these two cute blue ones for $12/base and $7/lamp shade.. so I grabbed two of them and called it a day! I love the symmetry…it's so relaxing! I had a lot of IKEA frames from past houses and projects..so grouped together some for either side. One day we'll mount the tv and hide the cords. ;)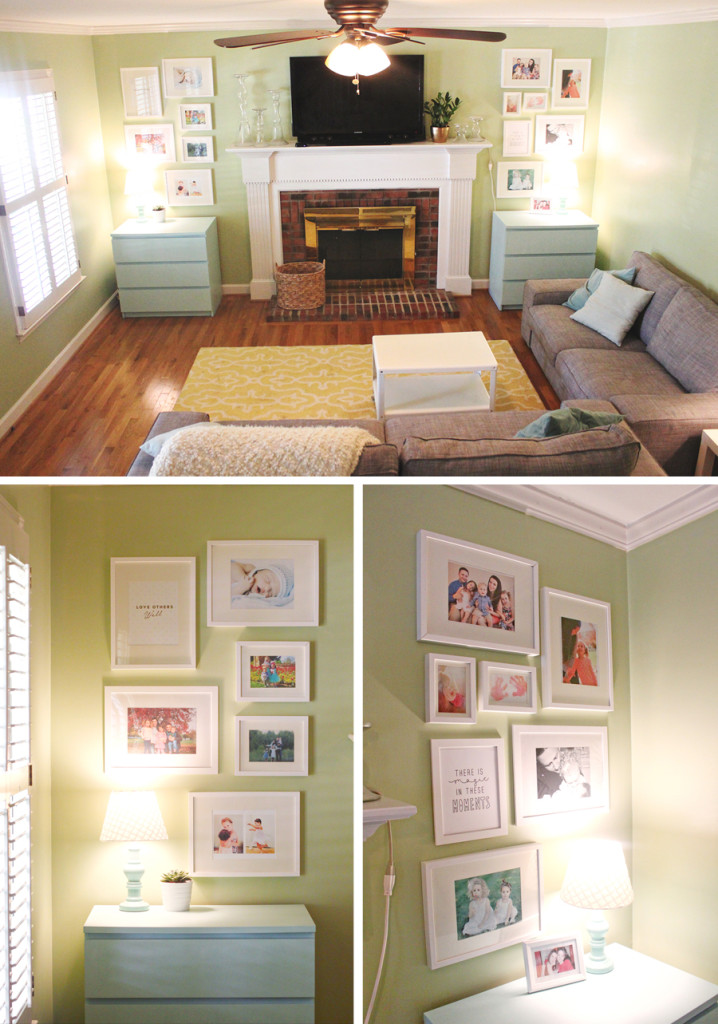 We have our thermostat on the stairway wall of the room and right away
I knew I wanted to camouflage it a bit with some frames.
It's a work in progress..probably going to add more of the plastic ikea ones below!
All of these frames/prints were used in past houses…
I will probably switch out some but I like the variety and looking back at old photos. :) Especially love the framed love note from ben back in our engaged days.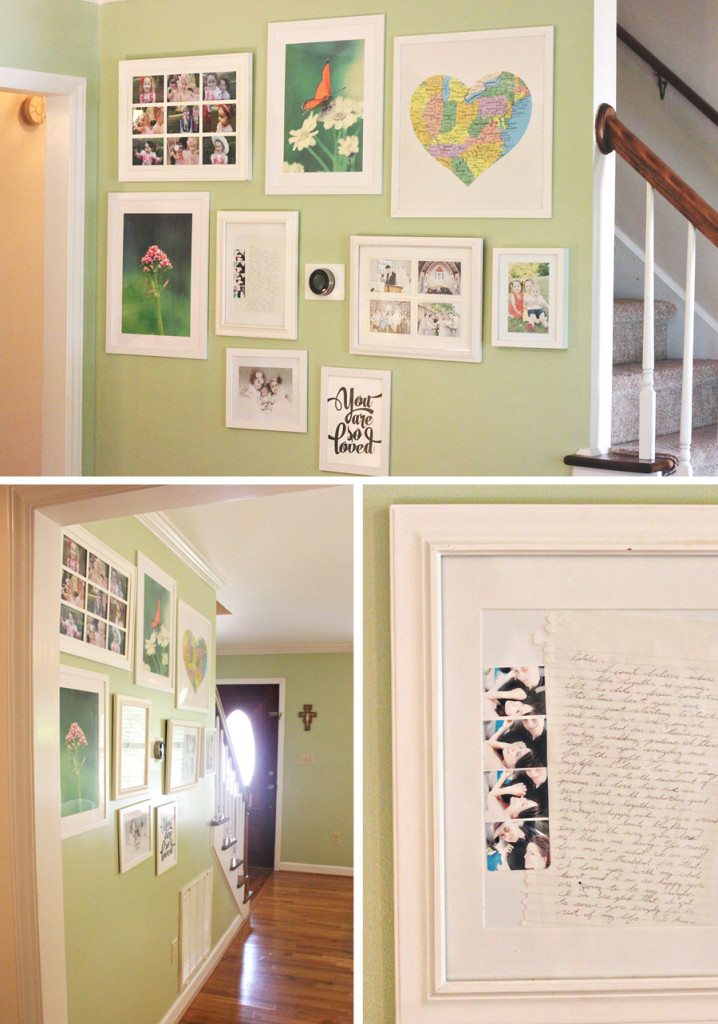 Our sofas are from IKEA.. Kivik Series. They have been so great. really durable and comfy.
The coffee table is also from IKEA. it's on wheels and we use it mostly when kids are sleeping or we have company..otherwise the kid's white IKEA table is in the middle of the room.
It's just the most functional thing for us right now. We moved our big coffee table into the back shed.
Our rug is from Rugs USA and was originally in the girls' old room.
Paint on the wall really helped brighten the space up. I did a color match at home depot and of course can't find the original card..but if you give them these numbers they can match it!
I'll update the post when I find the card or go back and grab it at the store!
COLOR MATCH: GLIDDEN Semi Gloss
BASE – gln6411
CLRNT:0Z – 384th
CL: 2- 156
DL: 0-216
JL: 0 – 60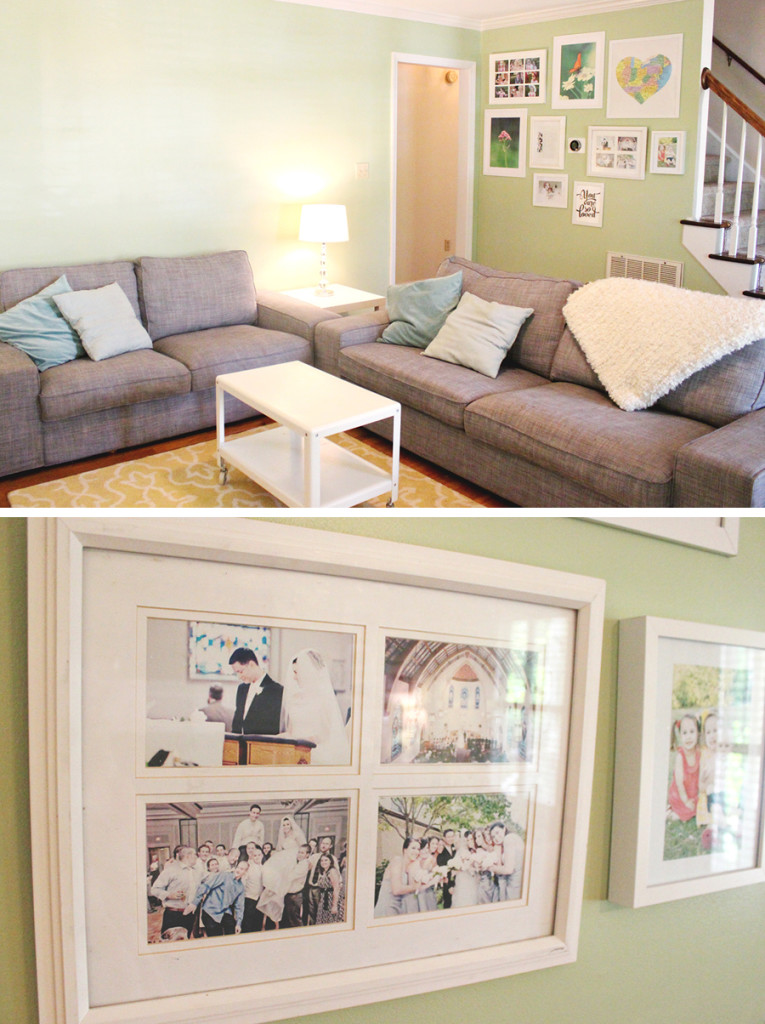 The plants were from Lowe's and I spray painted the one pot with some leftover gold spray paint I had. I also got a little succulent for the white ikea pot on the left dresser.
The candle sticks were wedding gifts from Pottery Barn.
One day I'll get candles for them haha. Another super functional item in this room is our basket at the fireplace. It's for diapers and wipes. I think I got it at Home Goods??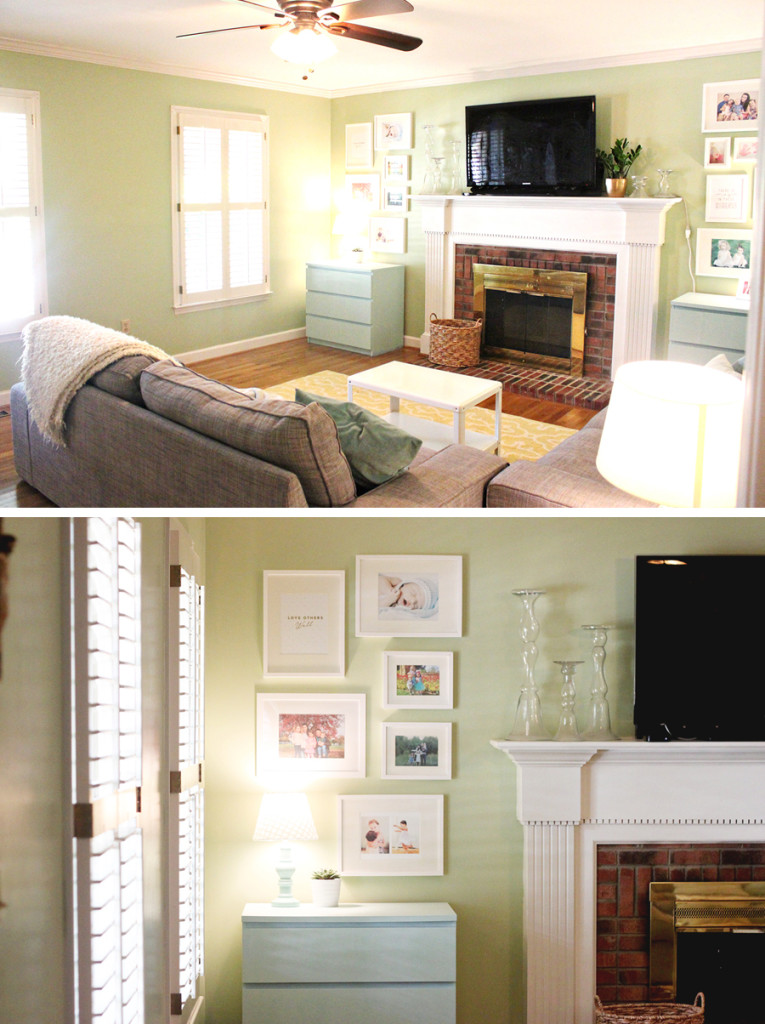 Thanks for stopping by and seeing the progress we've made in the family room.
I hope it encourages you to use what you have to make your house a home!
I'm not able to buy all new but shopping what we have..doing a few DIY'S and
just plugging in a couple functional new items makes a world of difference for a space!
I'll hopefully be sharing the playroom soon! It's coming a long. :)