This past weekend I was away at The Influence Conference. It's my second year going and I am already counting down the days till next year's date! It's incredible..I'm not even exaggerating. It's a conference put on by the girls of The Influence Network.
It's for women who want to use their influence to build HIS Kingdom… not our own.
It's for women who seek community with women who get God and get the internet.
It's for women who want to feel encouraged and uplifted and refocused. I always gain wisdom to take into my blogging and business life…but even more, I always gain wisdom as as woman of God.. as a mother and wife. I can't speak higher about this conference.
If you are on the fence about going. e-mail me…check out the influence network..
and download the audio from this year. You won't want to miss next year!
I love the community at the Conference. Loved hearing the hearts of these women.
the authentic deep conversations and the silly laugh so hard you are crying conversations.
I love the silent moments when we all sat and listened together to speakers…
all wanting to grow and learn. There is something very authentic about the conference..
the girls of course pull out their best outfits and trendy tops but they all have this
"I am not perfect I am flawed but I am perfect in his eyes and I want to work for Him….vibe.
They all totally jumped on board when Meg and I would be running
around doing silly videos and asking them to dance! haha.
Mandy and I haven't seen each other since april so I was so excited to actually be in the same city! She's one of my best friends and I love having her as my business partner for HAPPY MOMMY BOX but even more I just love doing life with her! Since moving to charlotte and becoming friends with Meg, I was so excited to have these two girls in the same room! So fun!! It was even more fun that Cheri, Mandy's neighbor, came and roomed with us! Loved having this girls' time…Our hubbies are rockstars doing kid duty all weekend!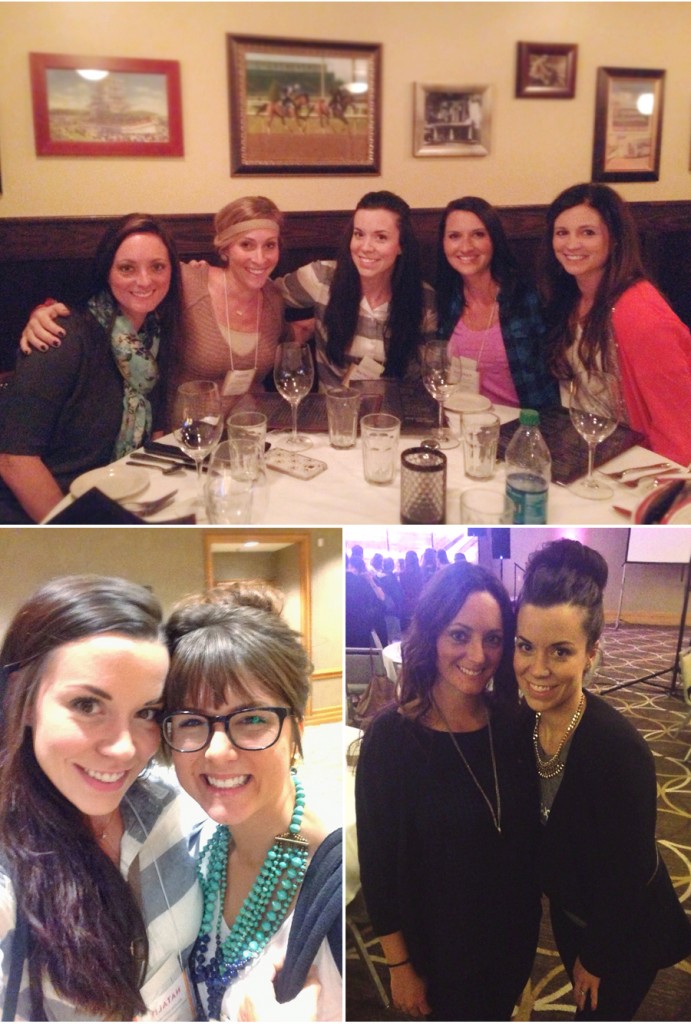 Friday night was a talk by Lara Casey. I loved hearing her share her story and it was pretty incredible how God was able to move the crowd through her. It was seriously amazing seeing this room full of women… just rocked.. sharing their hurts and their desires. their brokenness and their dreams. I was sitting in the back of her talk and just taking it all in…. I was listening to her…but I got distracted by just seeing this room full of women so fiercely in love with the Lord and totally ready to stand up and be vulnerable and how they had this heart to be completely His. I started to cry and trust me..it was an ugly cry I could not stop. It wasn't a moment where everyone was tearing up.. It felt like I was just randomly..crying… and I had to leave the room and try to get it together. I just couldn't even focus on the talk because every time I looked ahead and saw these women around me..I just kept thinking how I wished that Shannon could be here experiencing this with me. She would have loved this. she would have so been right there in the middle of these women… these were her kind of people. It made me sad…but it also was nice just letting her come to my mind. I had pushed her off more times than not these past few months. Ever since the final court date of her murderer. I had heard details in that court room that really wrecked me. And made my mind go places that I just didn't feel strong enough these past months to go. But I felt stronger here. and I felt like I was surrounded by lots of shannons. lots of women who want to love the lord in all they do.. who mess up.. who get back up.. who have hearts for Him. It's so important to surround yourself with women like that! I'm excited and hopeful for the things these women are going to do in our world! And love being able to tap into this community through The Influence Network.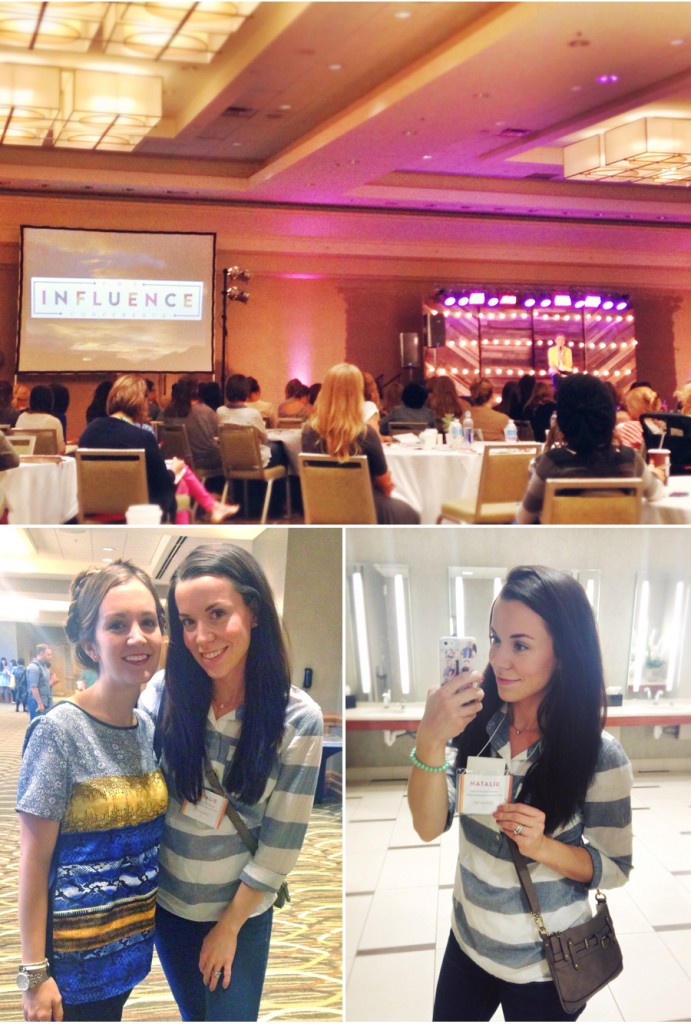 During Lara's session, she had us write down answers to different questions. That felt like the hardest thing for me. It seriously hurt my brain and burdened my heart because for the life of me I did not feel eloquent in my thoughts..or even definitive in what I was feeling and thinking. But I just tried to keep myself open and focus. She asked us what we were most afraid of….It took me a while to write my answer down. She had already moved on to other questions… But I finally wrote… I'm afraid of being so busy striving but still not
doing enough to make a difference or to matter, before I leave this world.
I realized that I had been so consumed lately with feeling like I had to take charge..like I had to tell God, trust me..I got this. When in fact God wanted to say Natalie…trust ME. I got this. Jessie really hit that home to me during her session. Lately the lines of communication with God haven't been as open as they should be. Back when I was in the hospital I felt God and the power of prayer so closely, it was easy to connect then… it felt so much harder now. I realized that I was trying so hard to do it all…comparing myself to others..and wanting to be loved by everyone but not thinking I deserved that love to begin with. When you are so consumed with doing things yourself, you can feel the pressure of doing it wrong or what others will think of you… you put that burden on yourself instead of letting that go and letting God carry that. He wants you to do things for Him.. but when you are REALLY doing it FOR Him… you can let go of that burden to be perfect. I'm saying no to comparison and being filled with striving and instead saying YES to His desires for me His hopes for me. I'm choosing purpose over perfect. And letting Him take that burden that I put on myself to be everything. He gives us grace and He wants us to rest in Him. I need to rest in Him more. I'm putting my bible on my desk. I'm not just going to pray when I'm sad or at night.
I really want to do things for Him…but WITH Him.
Saturday was really fun! Mandy and I were on the Strategy Panel. I was on it last year, but this year was even more fun having Mandy up there with me..and rocking our HAPPY MOMMY SHIRTS! :) Some super wise women next to me, honored to be in their company!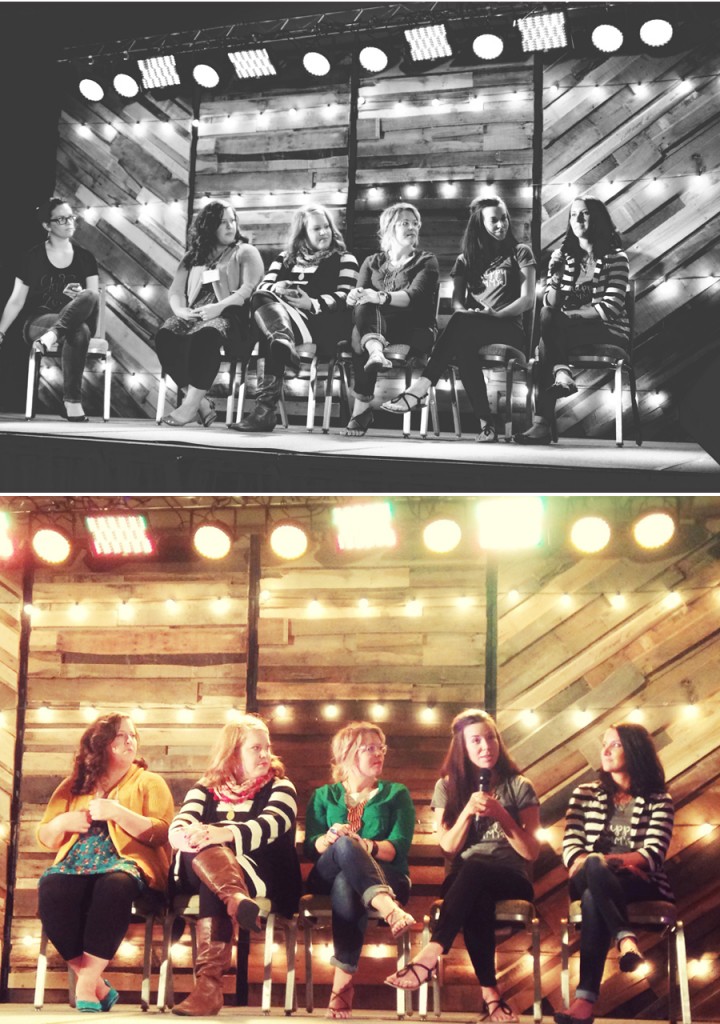 Spending time with these ladies was a good recharge!
So fun seeing what all of them are doing both professionally and personally!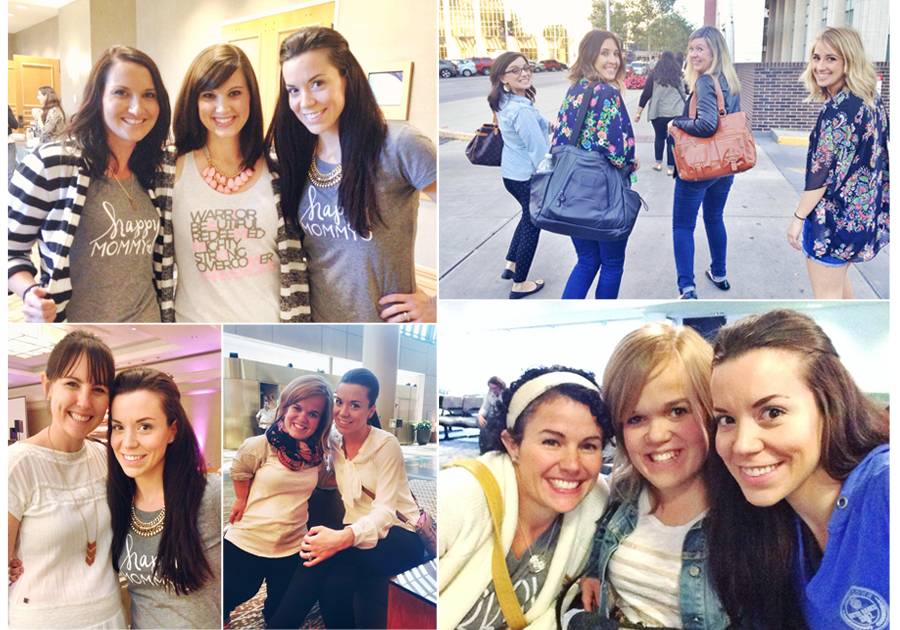 While Mandy and I were in the same city, we snapped some photos for content and for our new HAPPY MOMMY shirts! We had fun goofing off and glamming it up with Christine!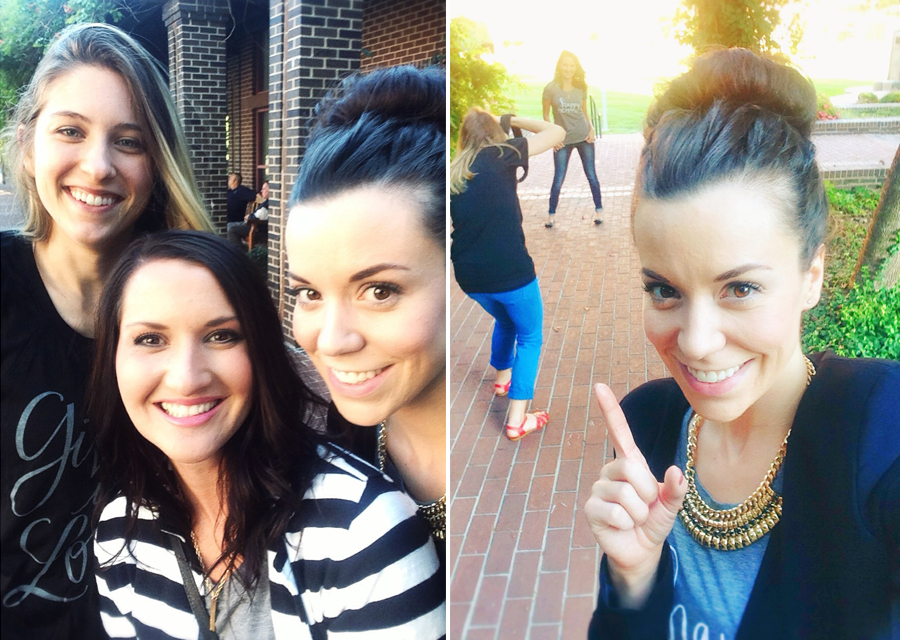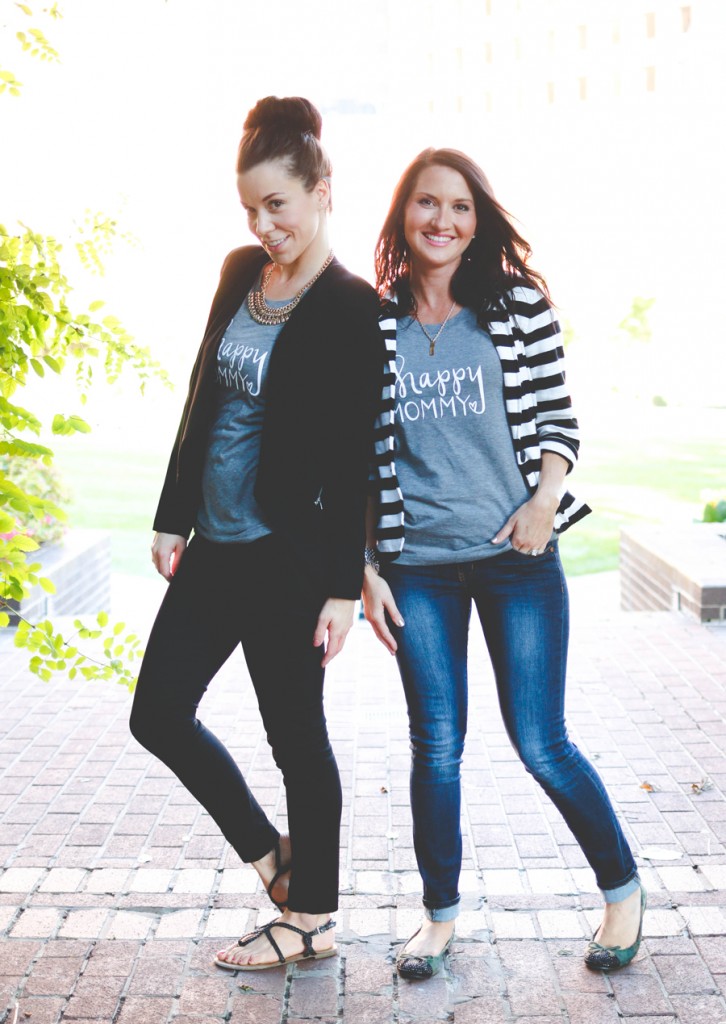 Loved seeing some Blanqi love throughout the conference! My sister and Sabina started BLANQI and it's pretty cool seeing my friends wearing their items
and also randomly coming across girls wearing blanqi!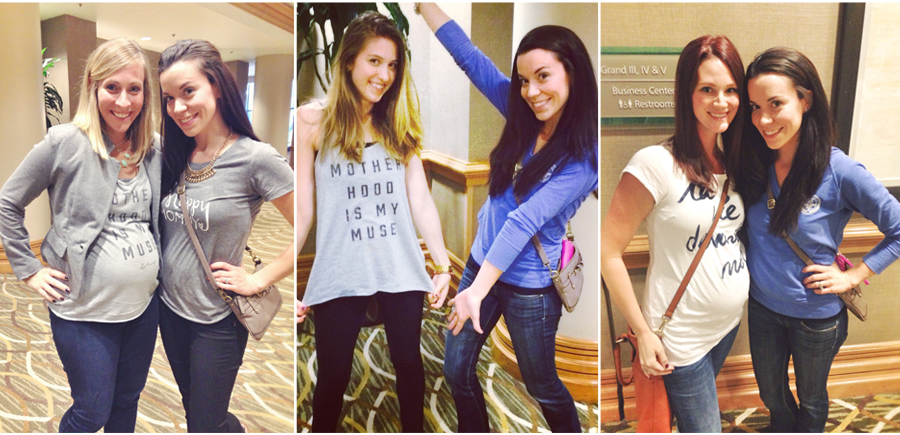 It was SOO FUN bumping into HAPPY MOMMY BOX subscribers and followers!
So thankful for their support and excitement about our dream!
We also were able to connect with one of our Brand Outreach
Team Members, Kristi! (shown in bottom left!)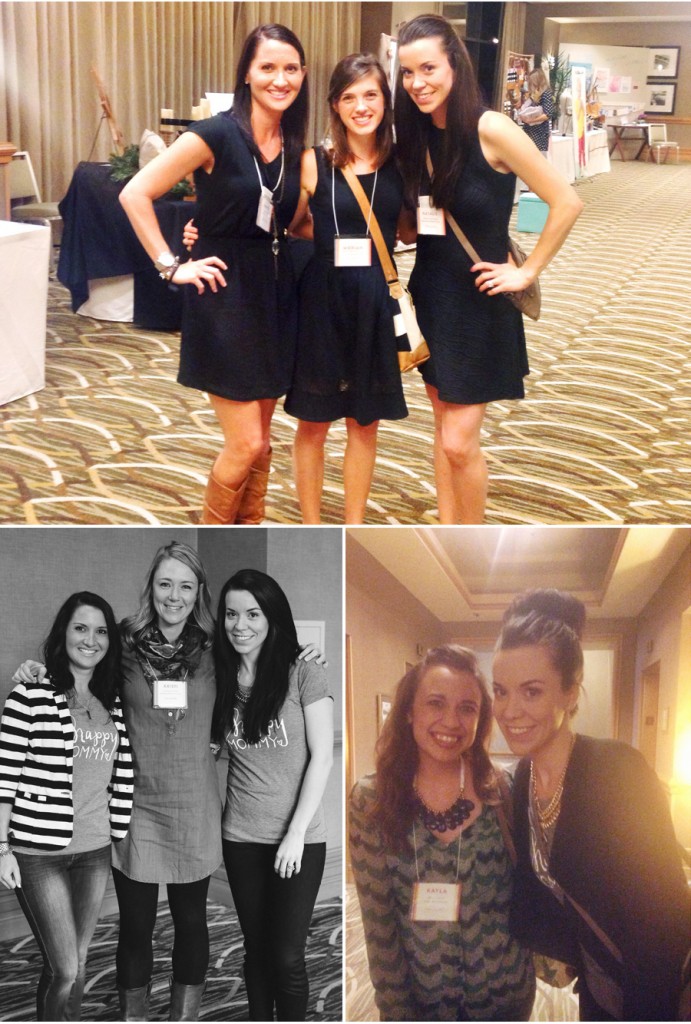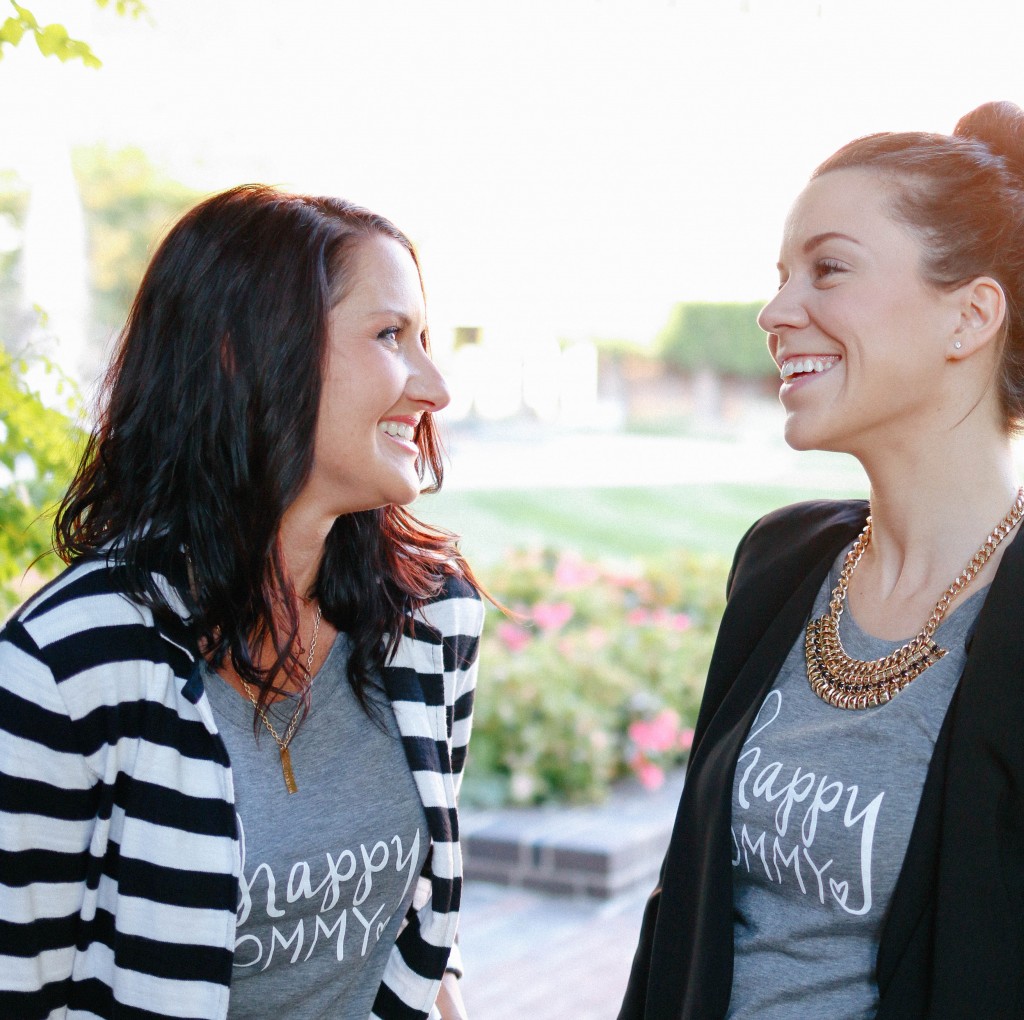 I'm still processing everything from the weekend, and I can't wait to read all of the recap posts… but I can't invite you enough! come next year! Huge thank you to the amazing team behind the conference… For their yes to working hard for this mission.
God is doing incredible things through it!