Suddenly I realized Micah was turning two in a week!
I texted some friends to come over monday night for cake!
Life was too crazy that week to plan anything..but when it hit the weekend I knew
I wanted to try and throw together something fun! Micah loves IRON MAN. It's probably the second thing he says after "baba" in the morning… and one of the last things he says before he goes to bed. When I tuck him in he'll randomly look up at me and say iron man?
to which I reply.. yes iron man is sleeping too….zzzzzz.
So I knew that was the perfect party theme for our micah man!
Sunday came and I finally had a chance to work up
some fun details for the party monday night. This is my love language..and how I relax.
So it was fun working on some DIY's after a busy week.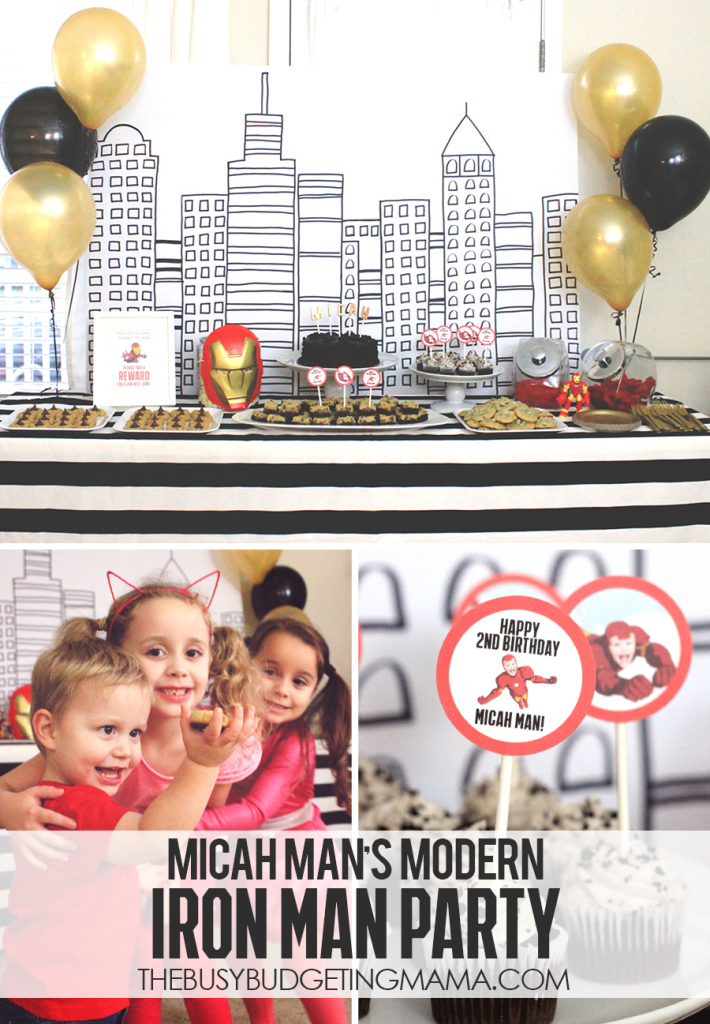 All of these things are super easy and quick DIY's or party details you can make as well
if you are in a time crunch! I didn't want to spend a lot either.. I would have loved to have an iron man costume and iron man favors.. but nope. we didn't have time and we wanted to keep it simple. I used a lot of what we had to make it come together and did party shopping in my craft box. :) The key to a modern licensed character party is to come up with a few basic elements that represent the character and then go in the direction you want! I don't like red. but.. I love black and white and gold and HAD some things that could make that color scheme work. I incorporated the red into the table with the candy and iron man mask wrapped around the popcorn jar! I HAD wanted maroon balloons..but accidentally ordered magenta balloons..haha.
We tied the pink balloons outside our door. ;)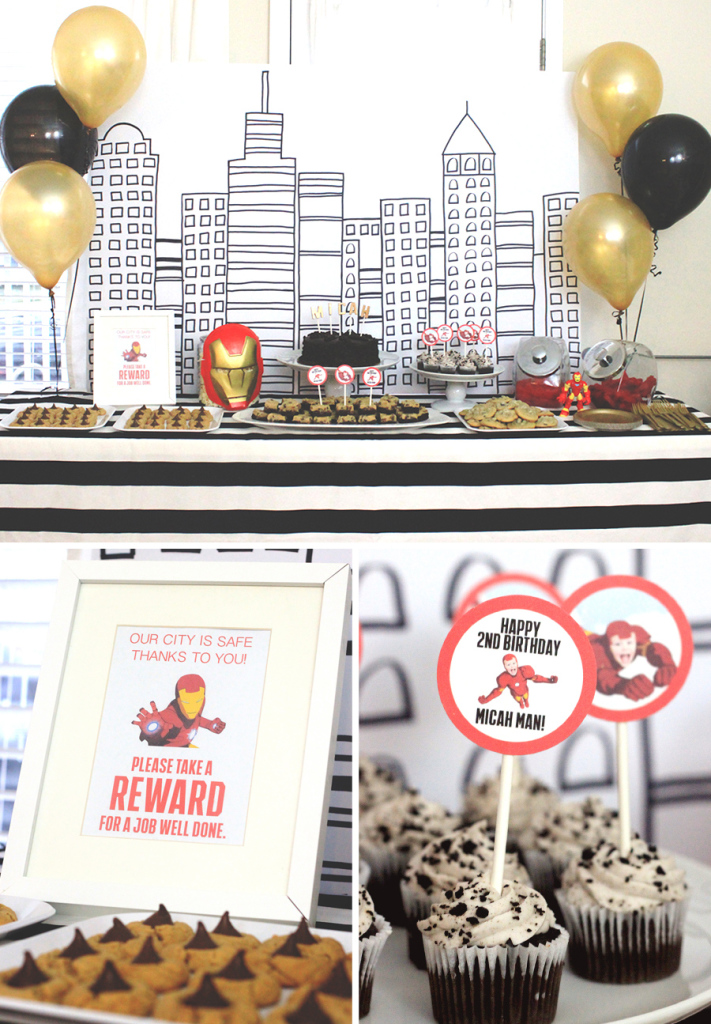 I knew I wanted to do a dessert table only. (We had some chips/hummus and
carrots out as well.) I made up an Iron Man sign to put on the table.
I wanted to keep it simple and bake with my girls to add to the fun.
I let them stay up late the night before baking with me and they were giddy as can be.
It took about 50 times longer but it was worth it. They loved it.
I bought store bought popcorn and cupcakes.
And then twizzlers and swedish fish for the candy jars. (they are from target)
Micah's present from us was a pack of marvel comic heroes…
And we used them around the party table decor :)
I bought one iron man mask from party city. (It was a couple bucks!)
Ben had the great idea to put it around the popcorn jar!
Micah kept pointing and saying, "Iron Mannnnnn!"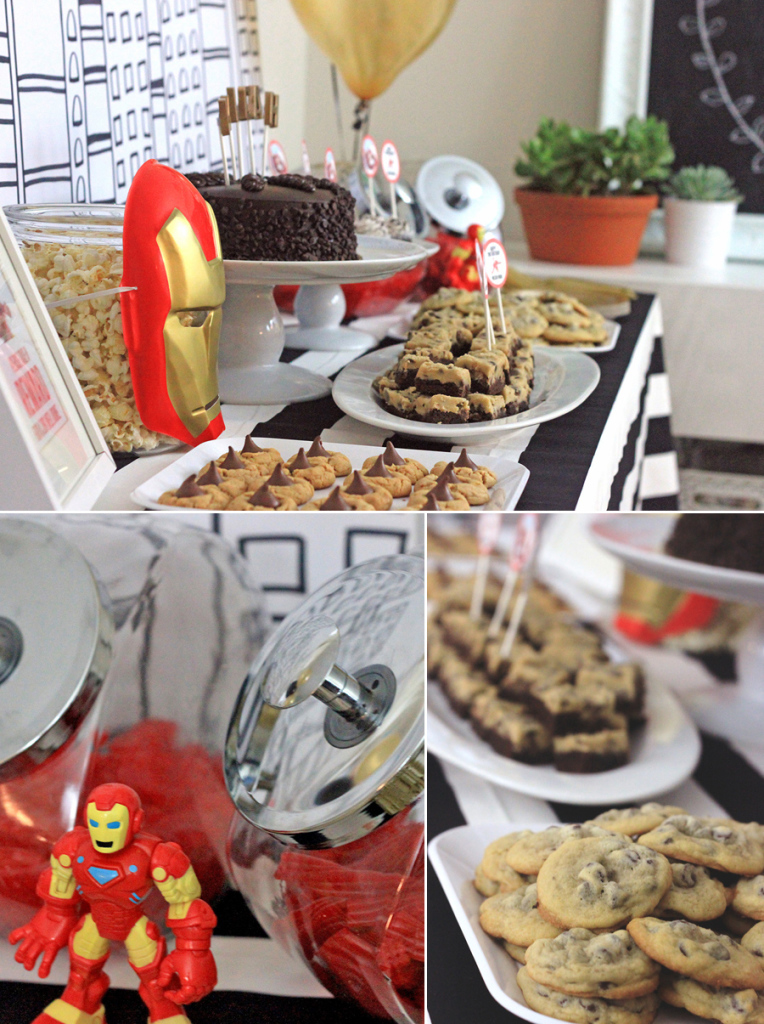 If there is one thing I know about super heroes, they like to fly through city skylines!
I had a big piece of thick poster board from our HAPPY MOMMY BOX one year party.
(it was $15 at Office Max) I used a pencil to doodle a city skyline…
not trying to have it be perfectly straight because that just wasn't gonna happen.
Then I used an angled thick sharpie to fill in the lines! SO easy. and it comes
together pretty fast. I had a hunk of black and white strip
fabric from IKEA that I used as the table cloth.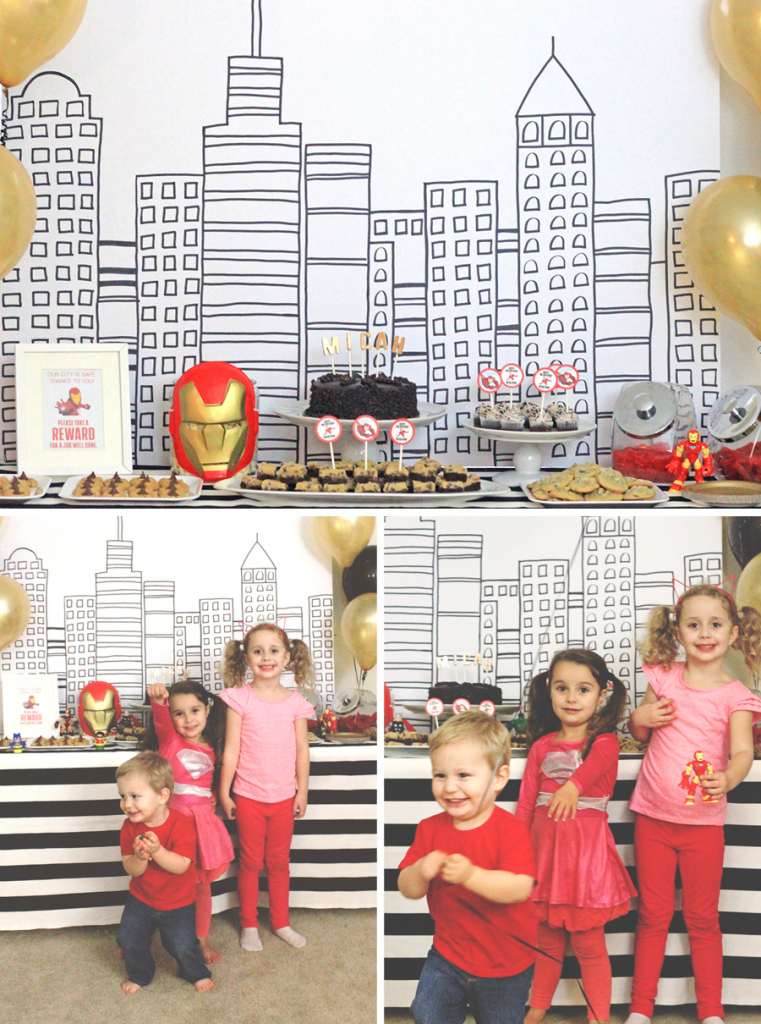 I had some lollipop sticks in my craft bin… so I made up some cupcake toppers
(made in photoshop… printed on card stock… taped to back of sticks.)
The Micah cake topper was made with our magnet letters spray painted gold!
I love how they turned out so similar to the Iron Man font!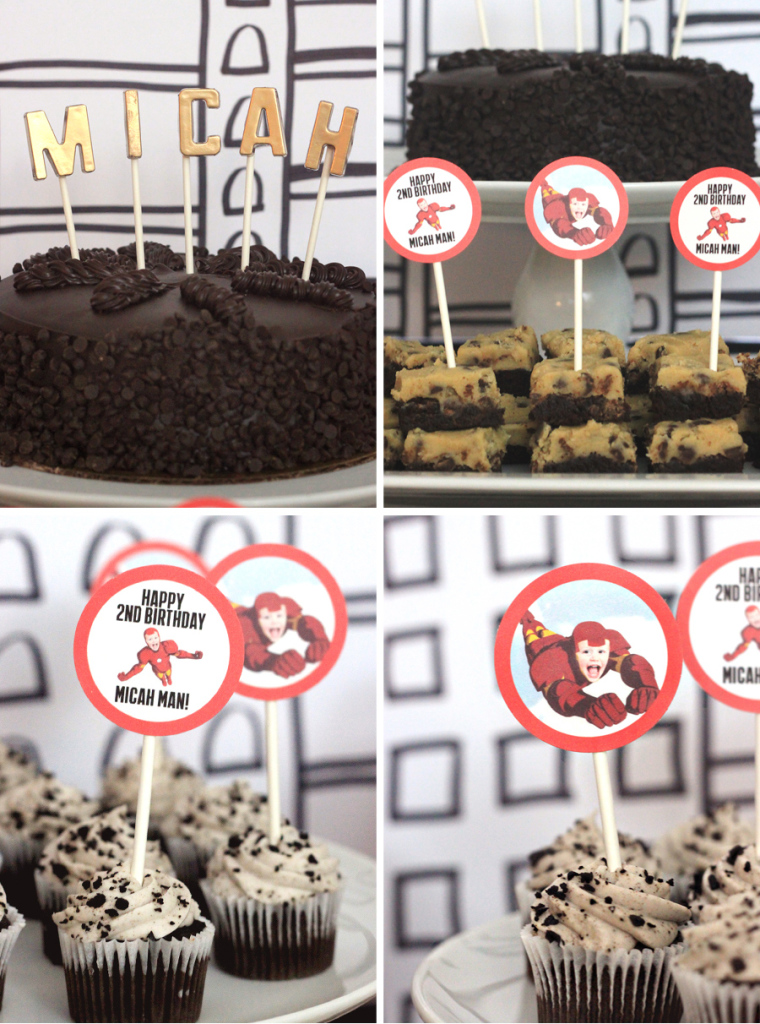 It was hilarious how Micah passed out a cookie to
EVERY SINGLE person who walked into our house.
He started doing it and then just kept on being the hostess with
the mostess the whole party! I'm so glad I made cookies because it ended up
being so him. mister social passing them out. all the superheroes were thrilled.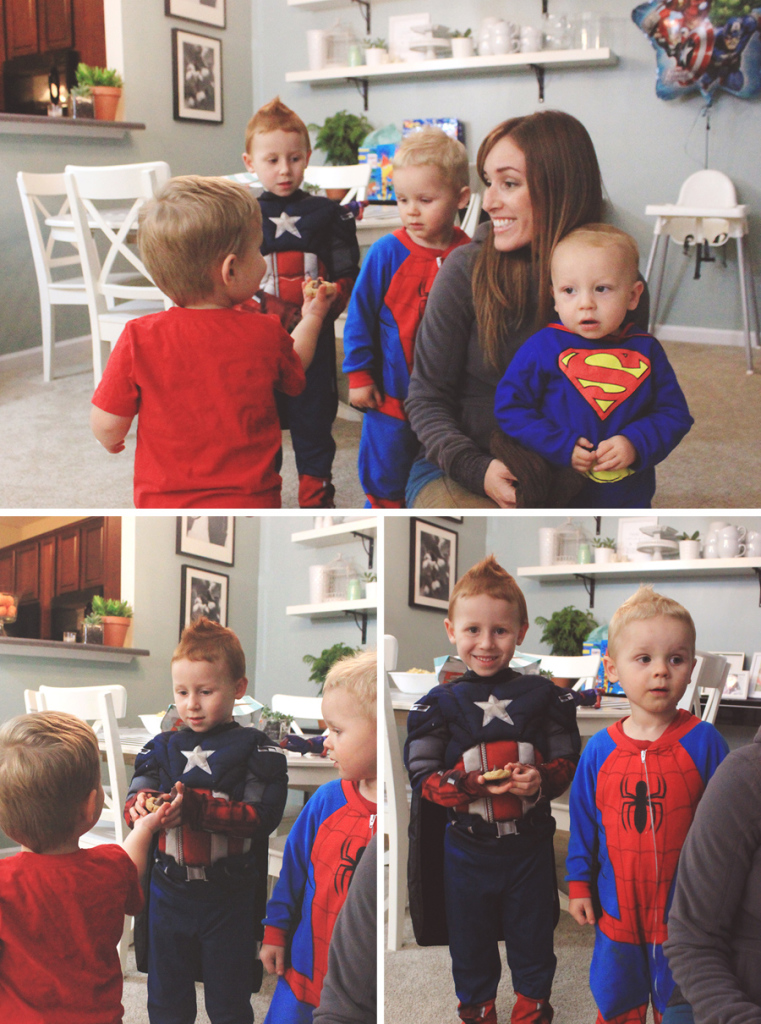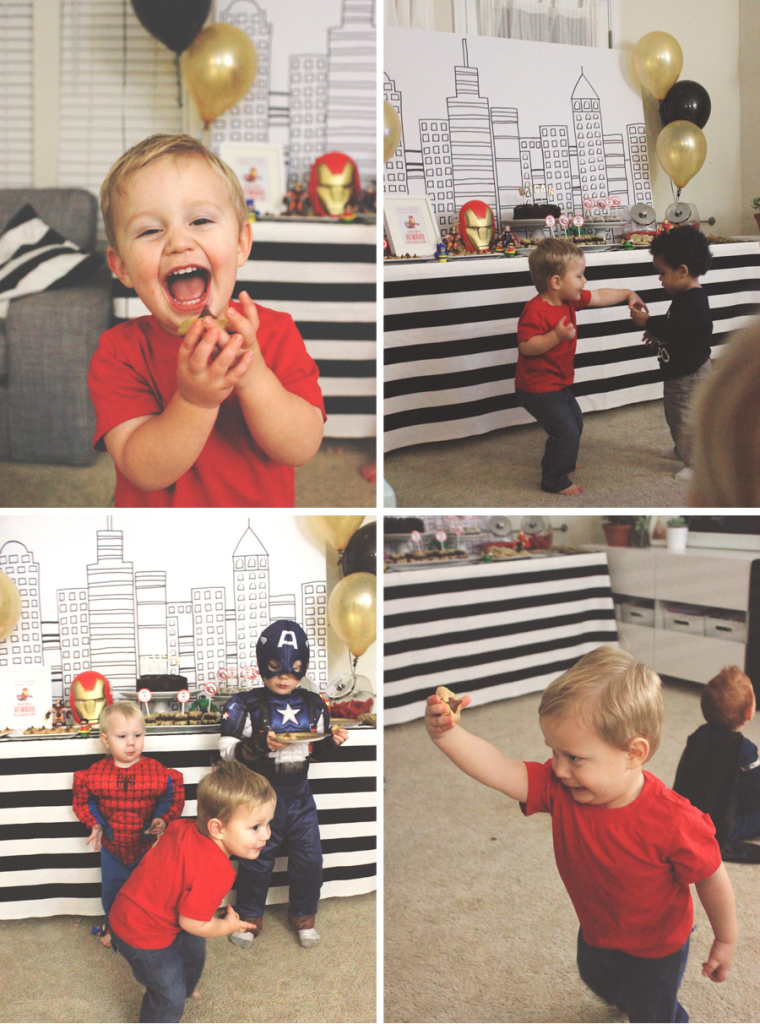 told you… I wasn't exaggerating about the cookies….
serious peanut blossom deliveries going on.
Micah to the rescue.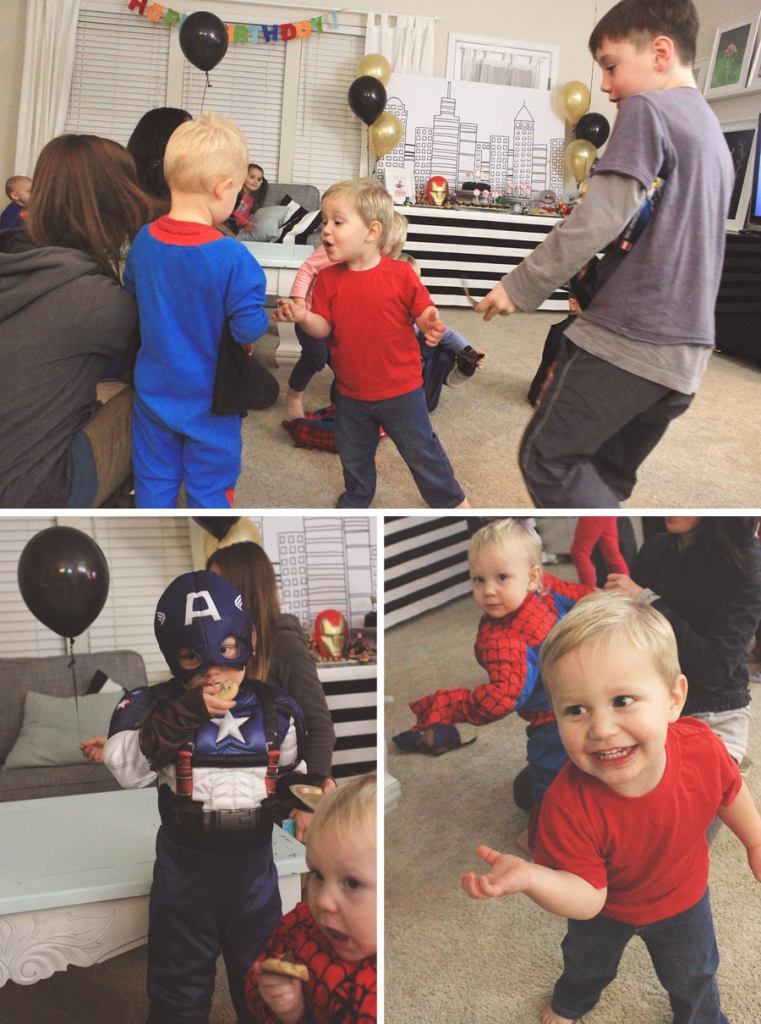 Micah was pretty proud of himself
and showing off the cookies.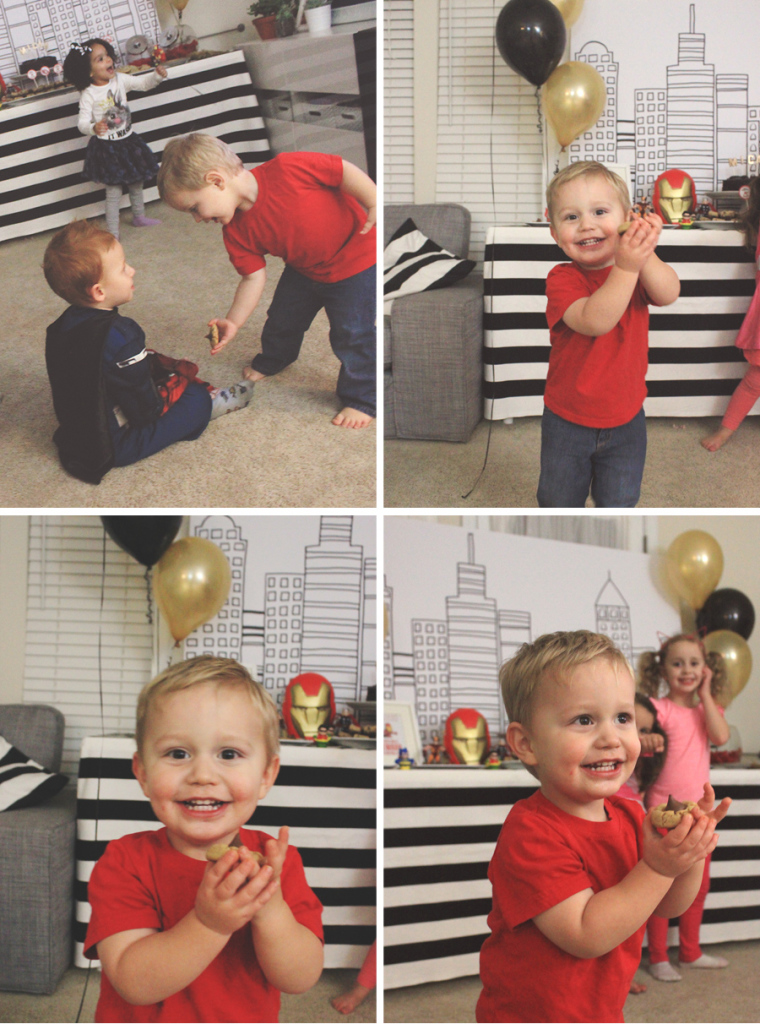 We only had one super hero costume in the house for the girls. and it's kinda too small. haha.
But Sienna wanted to rock it and Sophia threw her cat ears on and was bat girl! ;)
total goofballs.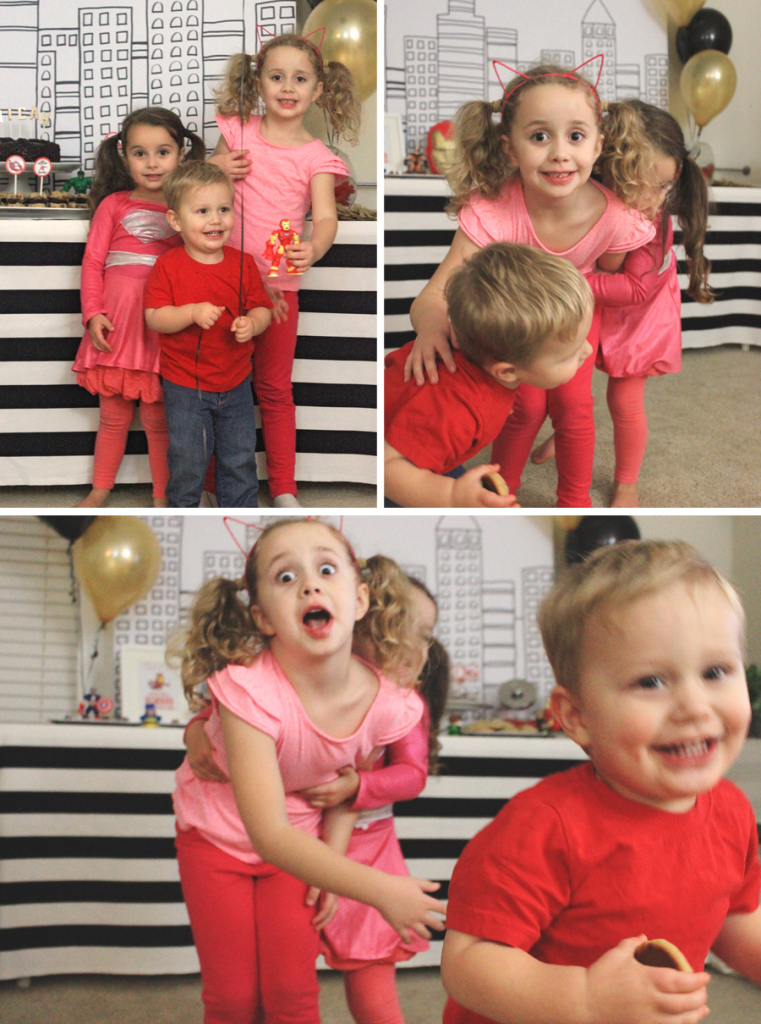 Cake time!! I picked up a chocolate cake from the Harris Teeter grocery store
and randomly found the #2 candle in my pantry from an old party pack! score!
I got the Avengers Balloon from Party City. it was $8 including helium.
Worth it because it's still going strong here! That was considered a present
from us too.. Micah loves balloons!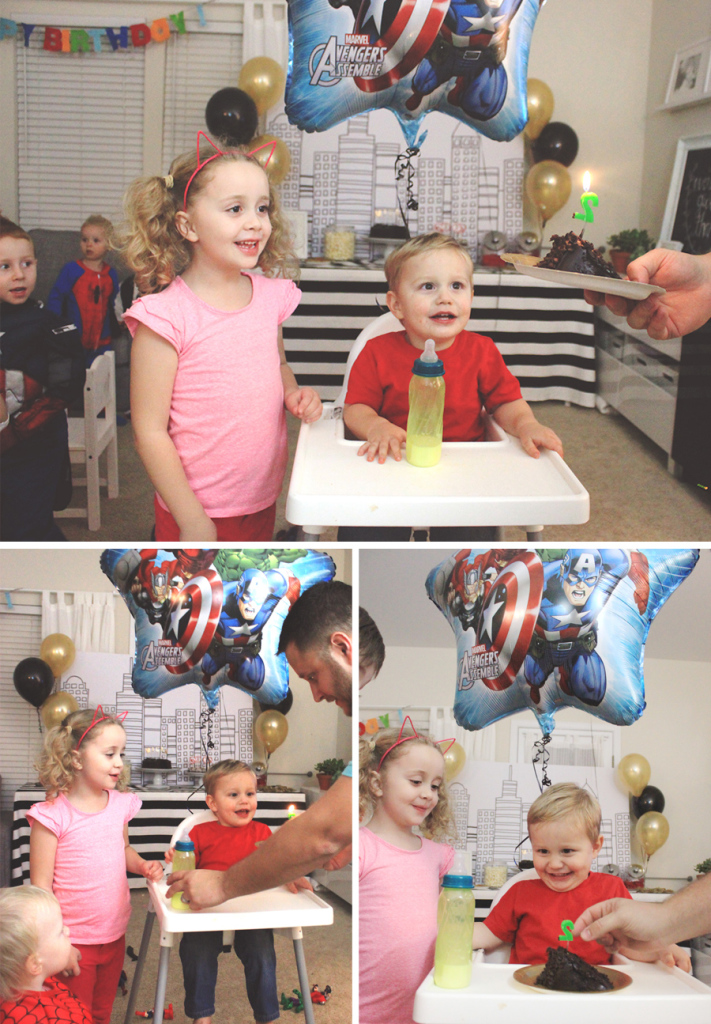 Micah was pretty pumped about the blowing out the candle part.
He ate two bites and was done with the cake itself.
The rest of us devoured the cake. It was so good!!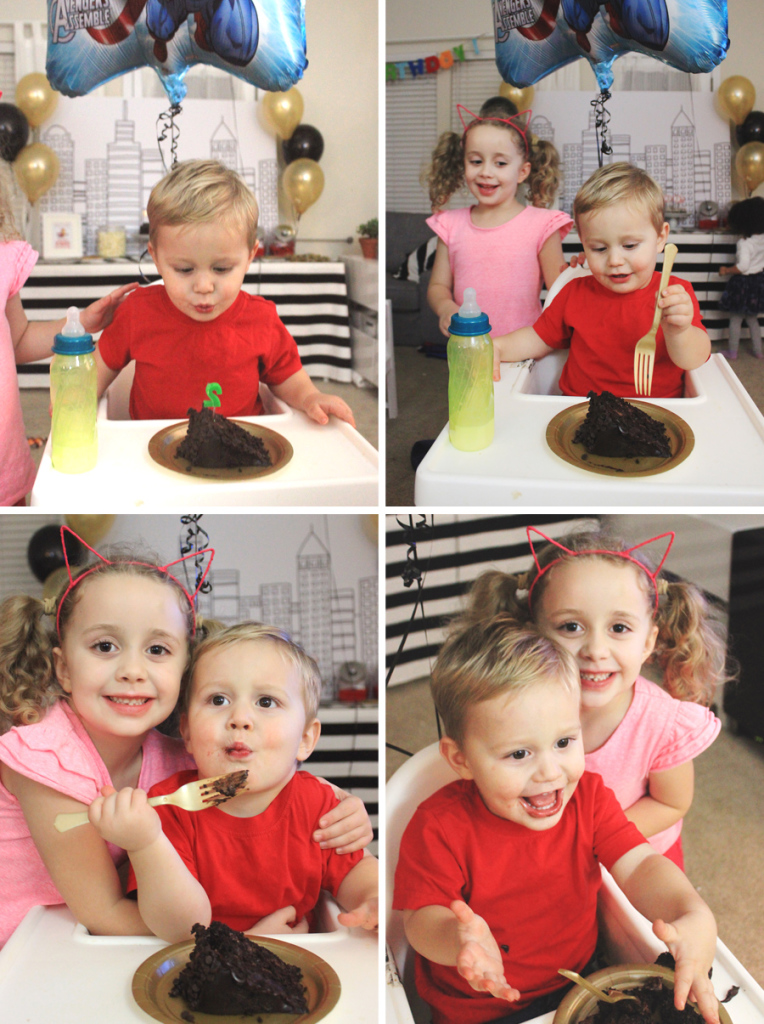 noo let's not stab mommy.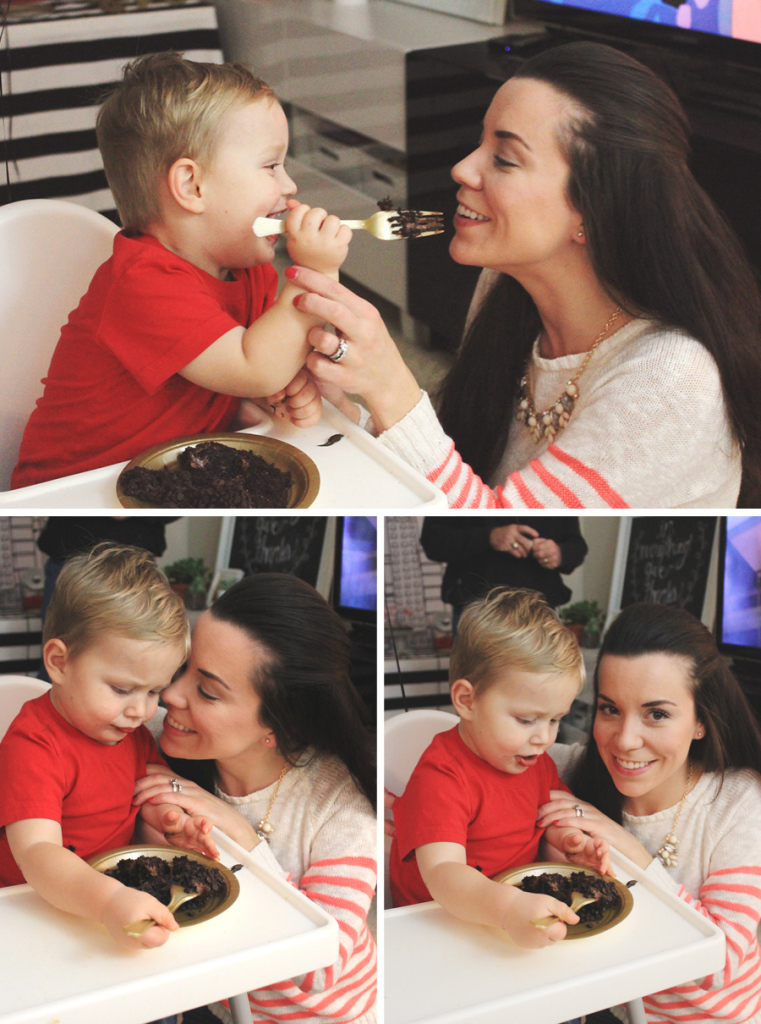 this sweet boy…can't believe he is two!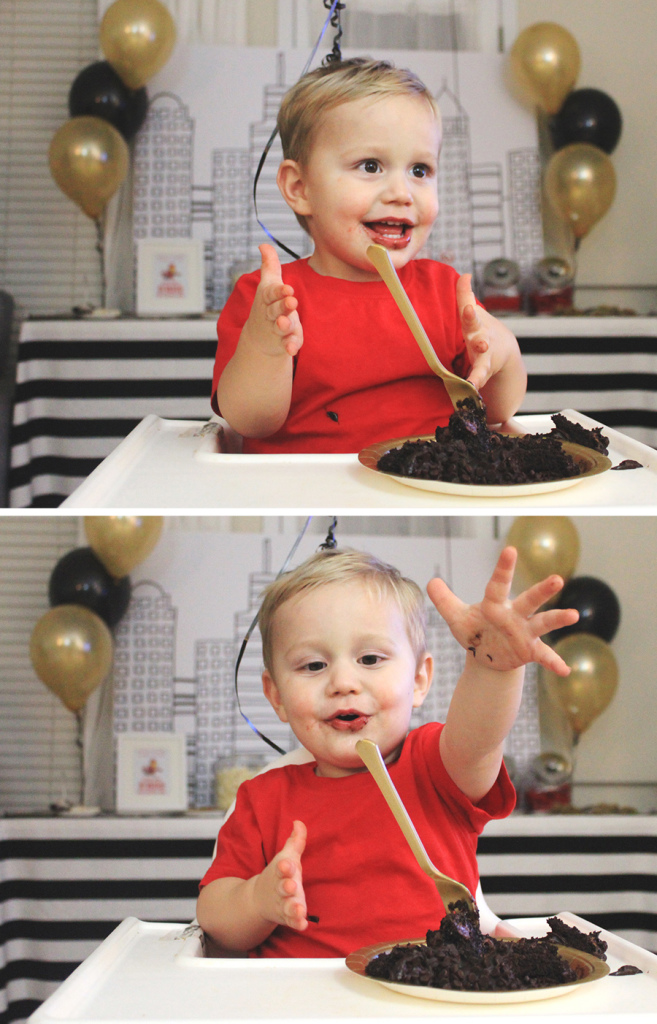 Sienna is a snuggler at parties. we cash in on it.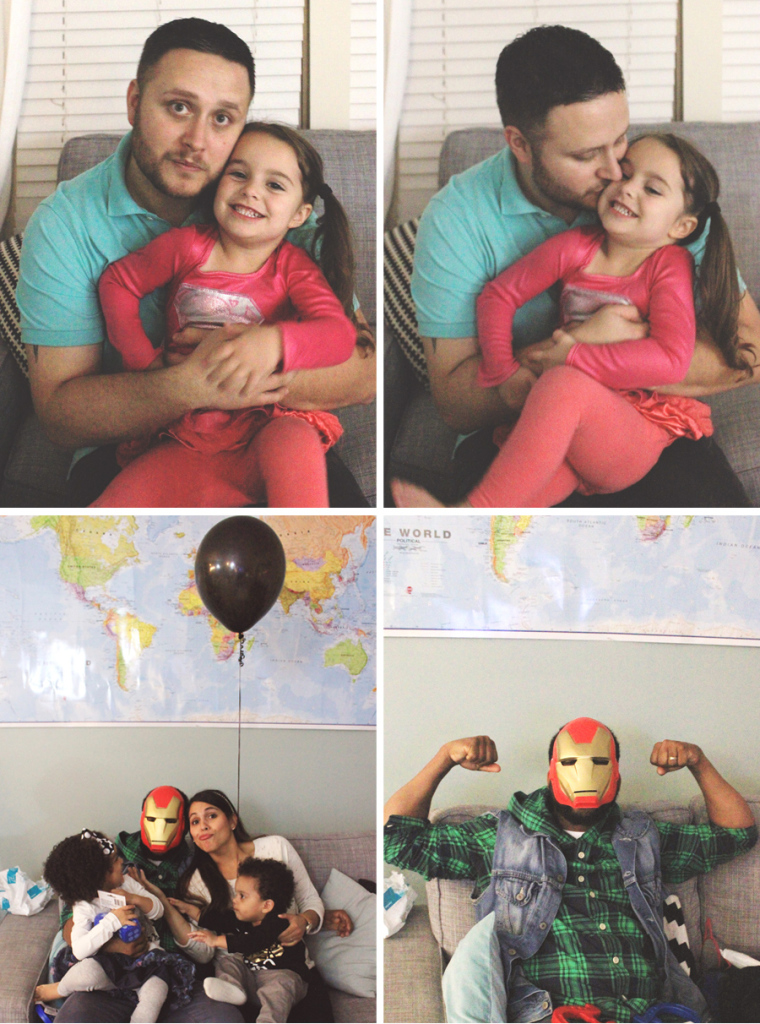 The iron mask randomly made the rounds.
Loved looking over and seeing micah put it on. He was in iron man heaven.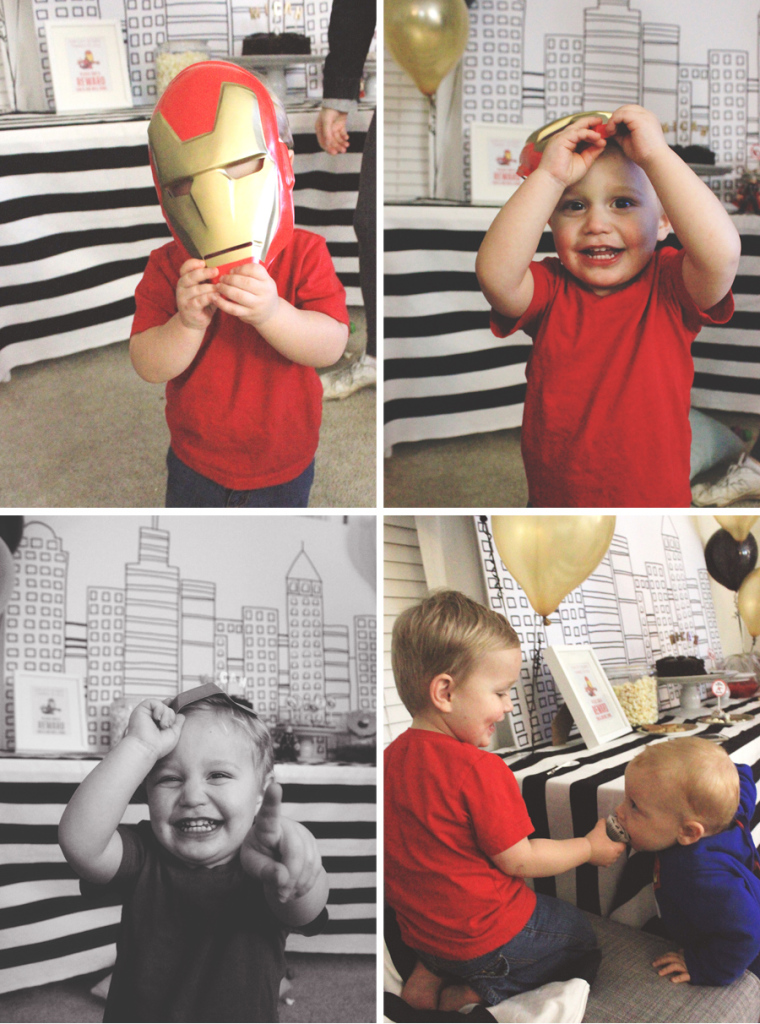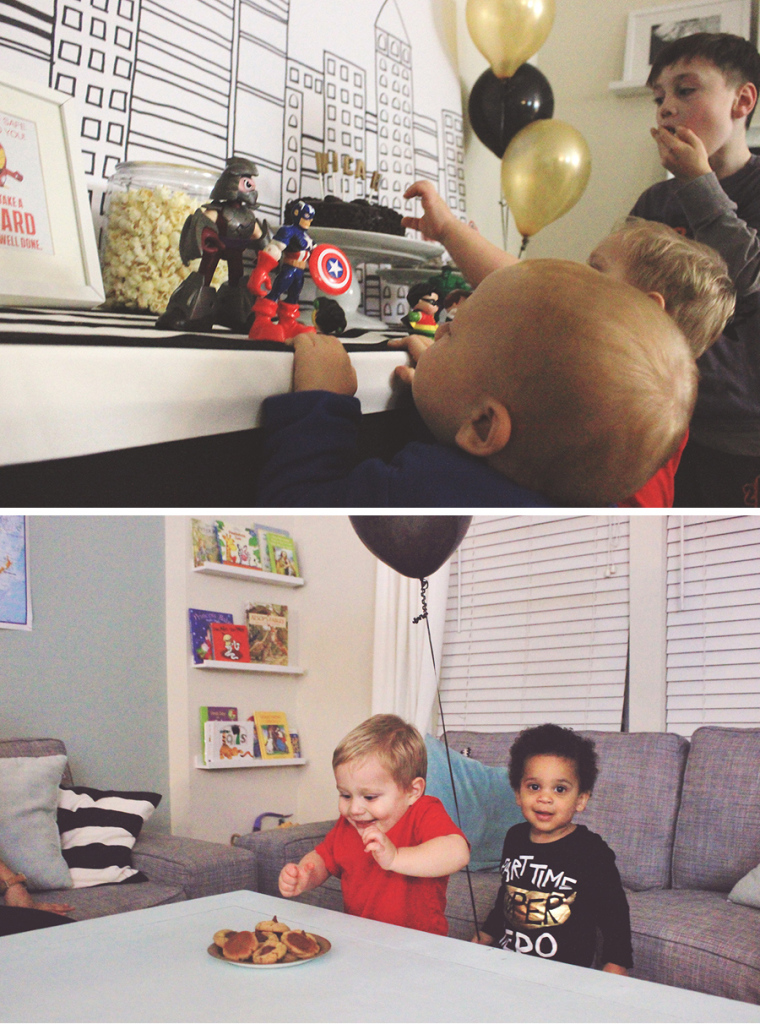 Micah was pretty excited about the communal plate of cookies.
(All the ones he had gifted and people couldn't eat fast enough.)
Micah and Ben had their bromances at the party.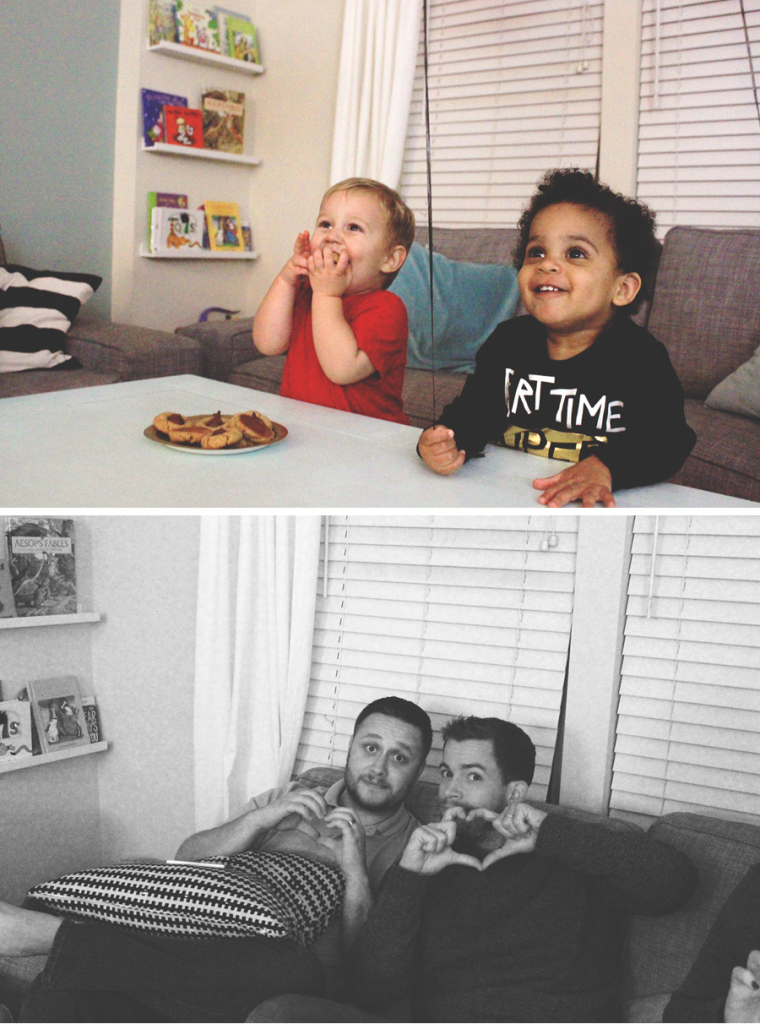 Gift time! Micah had lots of "help" from his cousins and sisters.
Thankful for everyone who came and for the gifts!
He loved everything and it's been awesome having BOY TOYS in the house.
slowly he is making his mark on this girl house. ;)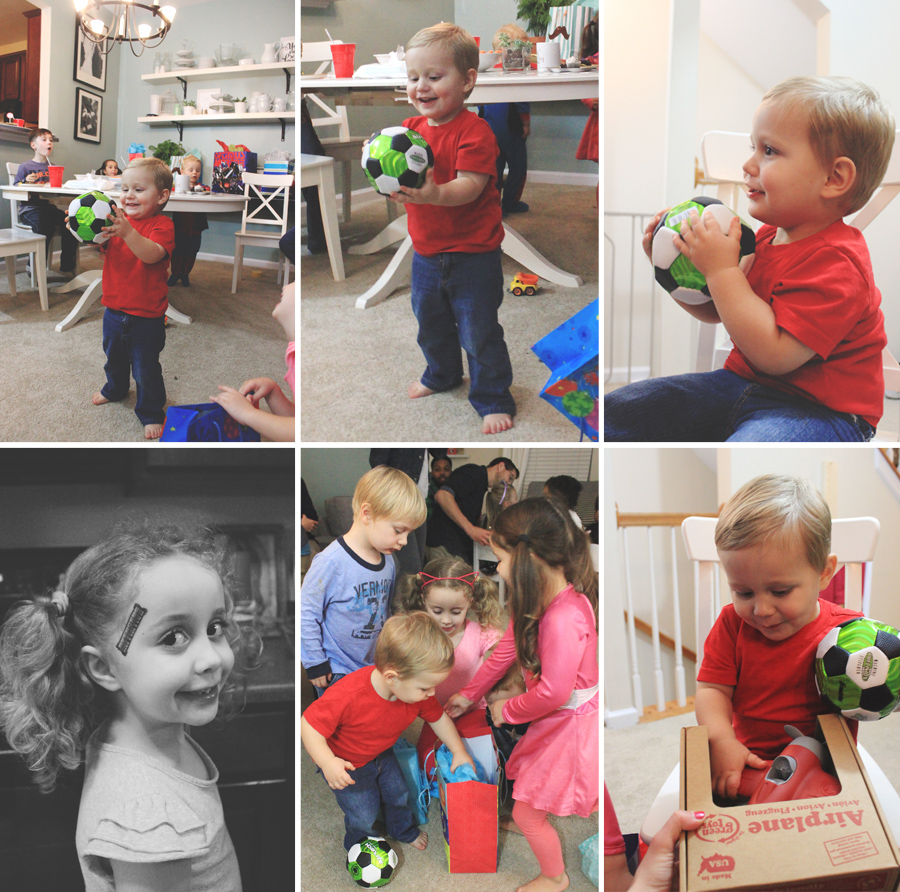 Thanks for checking out our Micah man's IRON MAN Party!
It was a quick DIY throw together but so fun celebrating our guy
and making some special memories!